Twilight Falls On The Prefabs
Prefabs had pale exteriors, a compact functional form, and kitchens and bathrooms with modern conveniences. Residents would say they "had no upstairs" (cue for "in more ways than one!") There were gardens in the front and the rear, with a coalhouse and a water butt. Prefab estates had play areas ('greens') for children. Each prefab cost a thousand pounds to make. Prefabs possessed an aura, a mystique, which vividly expressed the spirit of those early post-war years. One member of the Bath cognoscenti declared:  " A shed is a building, a cathedral is architecture, a prefab is design."
The rise of consumer culture from the mid-1950s put prefab residents on the back foot. Fashions had moved on and a high proportion of prefabs were in sore need of modernisation and repair. Plans were set in motion for these 'temporary' estates to be demolished. A tide of tarmac was poised to sweep over the greens on which a thousand sporting battles had been fought. Housing the masses on acres of expensive land and re-furbishing the rusting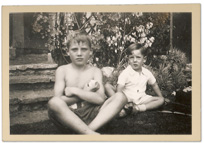 prefabs was seen as a luxury too far.
Before you could say 'Jack Robinson' many of the pale dwellings from the Ration Book Era were nowhere to be seen. It was not just the prefabs which had vanished. Hedges and lawns had gone as well, along with secret hideaways, floppy fences (with tailor-made holes for nipping under), gardens filled to the brim with cabbages and cauliflowers, and sparkling arrays of flower beds. Blocks of modern flats began to rise up from the prefabs' burial ground and freshly painted 'No Ball Games Allowed!' signs were hoisted into place to snap away at the heels of childhood. Once the pistol shot of the new reality had been fired no remnant of the prefabs remained. Apart, that is, from a dwindling band of nostalgicians with their memories, vague memories.